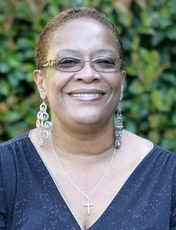 Rochelle R. Shaw is an ordained Ruling Elder in the Presbyterian Church USA and currently a member of Sojourner Truth Presbyterian Church in Richmond, CA. She has served as Clerk of Session at Sojourner Truth Presbyterian Church for 3 years and Ingleside Presbyterian Church in SF for 8 years. She has been a SF Presbytery Commissioner, Secretary for the National Black Presbyterian Caucus of Northern California, and Moderator of the Black Presbyterian Women of Northern California. Rochelle is also an ordained Deacon. She has served as moderator for Deacons at Ingleside and Faith PC in Oakland. Rochelle has the unique distinction of having been a member of 4 of the 5 Black Presbyterian churches in the Presbytery of San Francisco.
In 2014 Rochelle received a Masters in Divinity degree from SF Theological Seminary (SFTS). While attending SFTS, she represented them on the Seminary Support Network and attended GA 220 and GA 221 as a Student Ambassador. She interned at the Presbyterian Ministry at the United Nations for 10 months where she assisted with their coordination of the 52nd Commission on the Status of Women at the U. N.
She is currently enrolled in the Doctor of Ministry degree program, focus on Public Theology, at American Baptist Seminary of the West, at the Graduate Theological Union in Berkeley. She is expected to complete the degree requirements in Spring 2019.
Rochelle has been married to Ron Shaw for over 40 years, has 3 adult children and 5 grandchildren. She is a compassionate social justice advocate, church leader and community supporter.