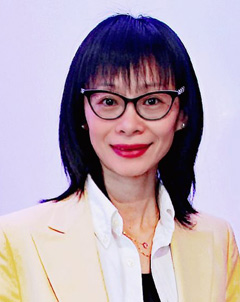 Elaine Liang was born and grew up in a loving Christian family in Xiamen, China.
Under the guidance of grandmother, she believed in Jesus Christ at an early age, and volunteered in church to serve children's Sunday school, youth fellowship and other ministries. After graduating from Xiamen University with a MBA degree, she worked for an enterprise management software company as General Manager for many years. Responding to God's calling, in 2012, she quitted her job and came to American Chinese Evangelical Seminary in Sunnyvale, CA, USA to study. In 2016, she obtained a Master of Divinity degree. In 2018, she was ordained as a Ruling Elder of Irvington Presbyterian Church. In 2022, she was Commissioned as a Pastor of First Presbyterian Church of Burlingame to serve the Mandarin – Taiwanese Congregation. Today, she serves as the part time Administrative Coordinator of the Presbytery of San Francisco.
Elaine Liang lives in Union City, CA, with her husband Jonathan Jiang who is also a Commissioned Pastor of San Francisco Presbytery. Since 2017, Elaine Liang has assisted her husband to plant a New Worship Community – Fule Church for Mandarin speaking people from Fremont CA based in United States and Shanghai in China. The desire and goal of Elaine Liang and her husband is to use their gifts and skills to reach out to the Chinese community of friends, to bring them to know Jesus Christ, and to cultivate disciples' spiritual growth.