SUNDAY, DECEMBER 13th
Psalm 126:4-6
"Restore our fortunes, O LORD, like the watercourses in the Negeb. May those who sow in tears reap with shouts of joy. Those who go out weeping, bearing the seed for sowing, shall come home with shouts of joy, carrying their sheaves."
For many of us, 2020 has been a year full of grief.
We grieve the deaths of over 260,000 people from a pandemic that exposes the devastating cost of choosing individual freedom over collective good. We grieve the countless heroes and icons who have passed. We grieve our nation's political dysfunction- the rampant disinformation, demonization and polarization, the blatant legacy of white supremacy and racism. We grieve the fact that our Black siblings cannot breathe or live freely in this country without fearing violence and death. We grieve for George Floyd, Breonna Taylor, Tony McDade, Rayshard Brooks, Anthony McClain, Walter Wallace, and countless others whose lives all mattered.
The grief is overwhelming.
Yet Psalm 126 reminds us of the good news of our tears. For a people experiencing the pangs of exile, our tears remind us that things are not as they should be. They remind us of the deep dissatisfaction we feel with our world. And they move us- from a place of being placated by the status quo of Empire- to a place of sowing the seeds of a new reality.
Our grief leads to growth.
Our dissatisfaction sparks holy imagination.
Our weeping holds the promise of being turned into joy.
So in this Advent season, amidst an unprecedented year, how can we embrace the gift of our tears? How can we pay attention to seeds of new life contained within our grief? As we mourn the world exposed by 2020, crying out for God's restoration, may we never forget who our God is – a God who restores the fortunes of God's people- time and time again.
May you keep sowing in tears, knowing that the harvest of joy will come in God's time.
Closing Blessing:
May God bless you this Advent with the holy gift of tears-
Tears that push you to sow seeds of justice,
To not grow weary of doing good
To keep loving all God brings you way
To keep dreaming of a world free from Empire,
And to make way for the coming of New Creation.
In the hope of Christ we pray, Amen.
I would also like to share a song that Michael Kim-Eubanks wrote for these times: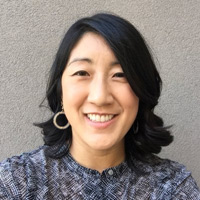 Erina Kim-Eubanks – CLP – Bethel Community Presbyterian Church
Erina Kim-Eubanks is a 2nd generation Korean American who has worked at the intersection of faith, justice, and anti-racism for over 15 years. She has provided leadership in a variety of contexts, ranging from college campuses, to prisons, to middle schools, to churches. She currently serves as a Commissioned Lay Pastor at Bethel Community Presbyterian Church (PCUSA) in San Leandro, where she strives to cultivate a spiritual community of resistance and renewal that is faithful to the radical Way of Jesus.